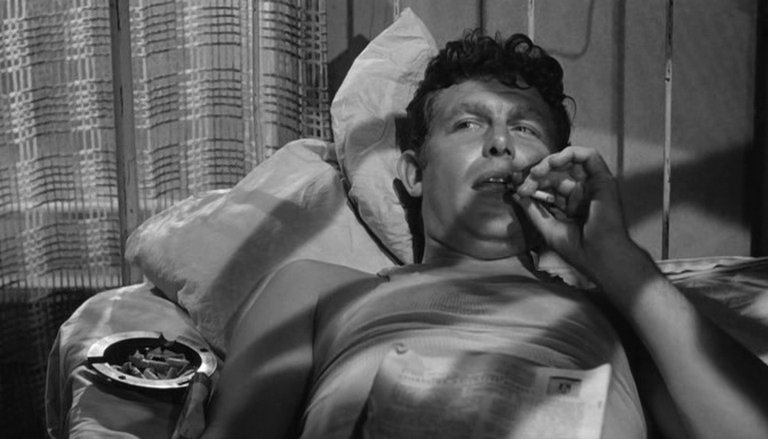 That is to say, his character "Lonesome Rhodes" is in 1957's A Face in the Crowd, directed by Elia Kazan.
Neglected by audiences and somewhat panned by critics upon its release, it has steadily gained stature over the years, and rightly so. I can't say I'm totally up on all of Andy Griffith's movie roles, but I wouldn't be surprised if this was his high water mark as an actor.
Over the course of the movie, Griffith's character, Rhodes, is rescued from a small-town Arkansas jail by an impossibly young and fresh-faced Patricia Neal, whose character Marcia Jeffries is scouting talent for her "A Face in the Crowd" program on her uncle's
radio station. Horse trading cooperation for an early release, Griffith spews forth a folksy country-boy banter and strums a song on his 'ol gih-tar. Rhodes (who doesn't know, or just doesn't want to reveal, his first name) is dubbed "Lonesome" on the spot by Jeffries.
The folks love him, and a star (and also a monster) is born.
It turns out Lonesome Rhodes' hayseed shtick is enormously popular, and he finds he can make audiences do just about anything. He derails the local sheriff's political ambitions for mayor. He gets the good folks of Memphis to contribute their quarters to a black woman who needs a new home. He gets his ever-growing audience to start buying a worthless energy pill (this was before worthless energy drinks, and good-as-gold Viagra) called Vitajex.
People take notice. Powerful people. And then Rhodes starts setting his own course.
Without blowing the whole movie for you, let's just say that Rhodes isn't too interested in the common good. He's interested in A#1, and how to get his favorite person to the top, with the population of America hanging on his every word, ready to do his bidding. A lot of people get hurt in the process, and every time Griffith flings some emotional dung in Patricia Neal's face, your heart breaks along with hers.
Although Kazan is a bit ham-fisted and on the nose in certain scenes, it's still a powerful movie today, and would have been astonishing when it was released in the late 50s. At a time when TV was starting to pick up steam, Kazan clearly saw the power of the medium, and how that power could be twisted to vile ends.
It's a damned fine movie. Go rent it. You'll never see Sheriff Taylor the same way again.
Plus! This is Lee Remick's first movie.